AgeWell APP featured in News from the Henry Street Settlement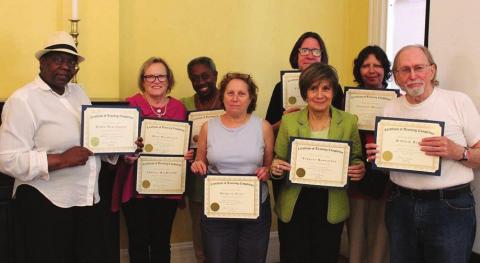 Taken from the Henry Street Settlement Quarterly Newsletter (2017):
Henry Street's Senior Services division is piloting a unique new smartphone application to improve access to social services and health care for seniors living in the Settlement's Naturally Occurring Retirement Community (NORC) in the Vladeck Houses. Henry Street and AgeWell Global, the app's developer, were one of 11 provider/innovator pairs to be awarded a grant from the Digital Health Marketplace to pilot the innovative health care technology in New York. Seniors (called AgeWells), who are trained to use the app, visit their clients — some 30 Vladeck NORC seniors. During home visits, AgeWells conduct smartphone-based health screening that can trigger referrals to NORC case managers and other health care providers, as well as provide companionship to their senior clients. The goal is to improve health outcomes and quality of life by reducing preventable hospital visits, ultimately lowering medical costs, and increasing the use of preventive health care among seniors.
Media Contact
Jack Downey; AgeWell Global; 
jack.downey@agewellglobal.com
Media